Whether you're looking for off-road adventure or the competition of a rally-raid, DesertX Rally is here to help you conquer the toughest challenges and push yourself beyond every limit.
Born in the desert and raised off-road, the DesertX Rally is ready to accompany you on your most extreme adventures with its top-notch professional off-roading equipment.
The presentation of the latest, even more off-road-oriented addition to the DesertX family.
Exploration with supreme performance
DesertX Rally is a high-performance machine, designed to cross desert, rock and forest and satisfy your desire to conquer.
The bike offers an additional 20mm of suspension travel, for a total of 250mm at the front and 240mm at the rear.

Both the 48mm closed cartridge front fork and 46mm rear shock are produced in collaboration with KYB. DesertX Rally flaunts a technology used on MX and enduro bikes that guarantees homogeneous behaviour and the necessary support even during the most extreme use.

DesertX Rally is more efficient off-road thanks to the new wheels that are lighter and more technical.

They flaunt stronger and lighter Takasago Excel rims, carbon steel spokes and lightened billet aluminium hubs (-0,5 kg vs. DesertX complete wheelset). We chose to have an inner tube rims to have central spoked wheels that are less exposed to stones during off-road use.

The front wheel retains its 21"x2.15" size, while the rear is narrower than that of DesertX, measuring 18"x4".

DesertX Rally is more efficient off-road thanks to its dedicated wheels, carbon sumpguard, and billet aluminium rear brake and gear level.

The weight is the same as DesertX (just 1kg more), but the riding feeling is completely different.

DesertX Rally is even more efficient off road equipped with the top-notch off-road componentry.

The front brake line is split, to allow for the mounting of the high mudguard. The Ohlins steering damper is adjustable and attached directly to the handlebar.

The gear lever and rear brake pedal are in billet aluminium. The sump guard is in forged carbon, more resistant than the standard version on DesertX and lighter than the version currently available as a Ducati Performance accessory for DesertX.

The plastics are mass-coloured and unpainted, so any scratches are a lot less visible.

The graphics are adhesive, in thick PVC, to better protect the surfaces of the bike and ensure greater scope for customisation.

The colours and graphics of the new livery take up those of the DesertX with which Antoine Meo triumphed in the Erzbergrodeo Prologue.
Find the ideal clothing with which to tackle your latest challenge or essential accessories to round out your equipment.
Flaunt DesertX style with the new Explorer outfit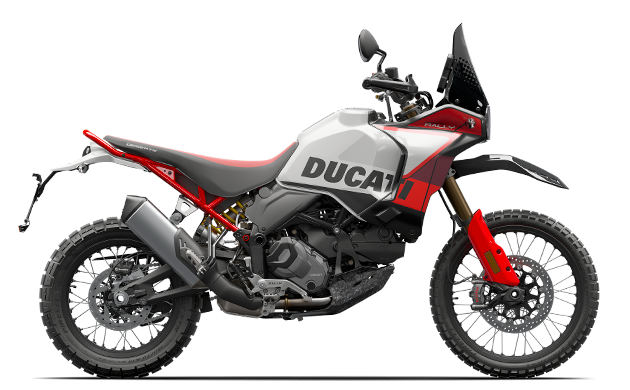 Contact the dealer closest to you to have more information on the new DesertX Rally.