The three models – Hypermotard 950, Hypermotard 950 RVE with Graffiti Evo livery and Hypermotard 950 SP – are perfect for taking cornering to extremes whilst also dealing with city traffic with the utmost agility, thanks to their high-level performance and sophisticated electronics equipment.
Explore the Hypermotard family.
The Hypermotard 950 transmits lightness and simplicity with its clean, taut lines. Traces of the motard racing world are visible in the high double exhaust, the straight seat profile and the narrow, streamlined proportions of the motorcycle, which hint at an agile, adrenaline-fueled ride even when at a standstill.
The design is in the detail

The new colour scheme uses water decals with the aim of achieving refined, complex graphics inspired by works of street art. The graphics cover the entire motorcycle, for an overall effect similar to that of an aerograph. The RVE logo, positioned on the rear panels, is an added touch identifying the new Graffiti Evo livery.

Engine

The Hypermotard 950 RVE is equipped with a revised version of the 937cc Ducati Testastretta 11° twin-cylinder compliant with Euro 5 emissions regulations*.

*only in countries where Euro 5 applies

High-tech fun

The modern and sophisticated electronics aboard the Hypermotard 950 include Bosch Cornering ABS EVO, integrated with the Slide by Brake function that allows for controlled and safe slides into the corners, and Ducati Wheelie Control (DWC) EVO, which can be monitored at all times on the 4.3" TFT display.

Lightness and simplicity

The rear subframe is particularly narrow in the area where it meets the main frame, which allows for a saddle that is narrow at the sides with an increasingly reduced straddle arch. This means that, compared to any other seat of similar height, the rider can more easily reach the ground with both feet.
Discover the Accessories catalogue
Discover the Ducati jackets collection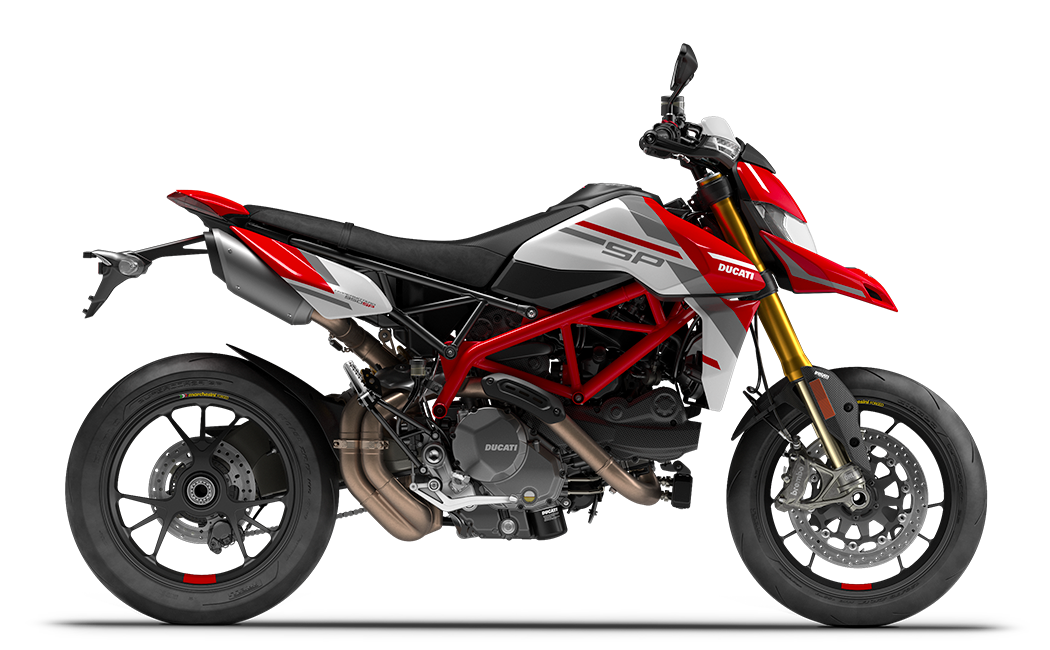 Contact the dealer closest to you to have more information on the new Ducati Hypermotard.