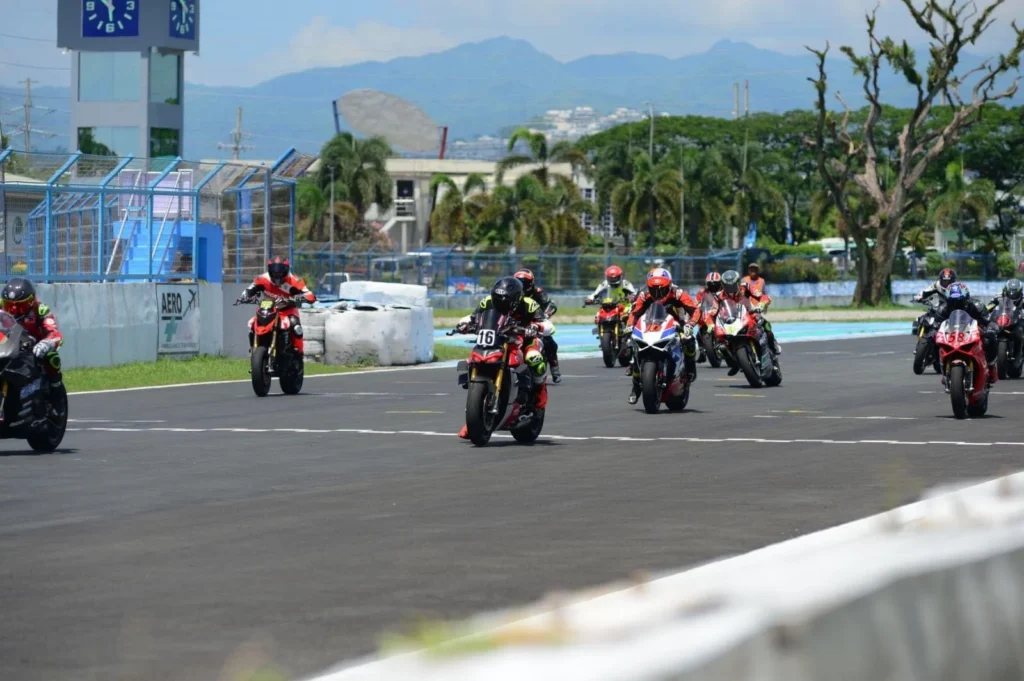 (July 24, 2023 – Manila, Philippines) It almost felt like a Ducati festival last July 8 and 9 when riders of the Italian marque swept through the race podiums in three separate events at the Clark International Speedway (CIS). There were 29 entries in total that took the brand to victory lane be it a novice, intermediate, expert, or pro Ducatisti riding either a Ducati sport naked, supermoto, or superbike.
Double podiums in Philippine Superbike
The highlight of race weekend for Ducati was Access Plus Racing's dominance in the Philippine Superbike Championship (PSBK) national series. Debuting the latest 2023-spec Panigale V4 R and V4 S, TJ Alberto and Lawrence Macalinao used their new machinery with great effect. The pair not only won both races in the Pro and Expert Classes, but they also scored a 1-3 finish overall in Race 1.
Josh Tan added to the team's tally of wins in PSBK. He was practically unchallenged in the Intermediate and Novice Classes and won both races.
Pirelli Cup's all-Ducati podium
Ducati also demonstrated its calibre when up against other machinery in the Pirelli Cup with the camp attaining a total podium lockout across the different classes.
Jan Timbol, Zeng Huazhong, and Justin Guce earned Ducati a dominant 1-2-3 finish in Race 2 of the Super A Class with their Panigale V4s filling up the podium. Speaking on his exceptional results, he shares, "I felt more confident with the bike and evidently surprised myself with my performance in Race 2. Although not perfect, it was indeed a sensational comeback for me at CIS."
He mentions that it was a team effort. "I had continuous training and learning with Access Plus Racing's TJ Alberto and Lawrence Macalinao. Plus the hardworking crew of Ducati Clark who prepared my bike. I'm beyond grateful that this round was so worth it for everyone's support," Jan stated.
The Heavyweight B's podium was also filled with Ducatisti. Daniel James Dale, Lester Milan, and Paolo Aguilar snagged 1st, 2nd, and 3rd place, respectively in Race 1. They then repeated the performance in Race 2, but with Lester and Daniel swapping places this time around.
Subsequently in the Naked Class, Ric Cruz and Michael David crossed the finish 1-2 in their Streetfighter V4, while Pong Lacson stayed close in 3rd on his Hypermotard RVE. Rookie Class standout Jade Ragalario donned the Ducati colors for his own Panigale V4 in pursuit of his win in the Rookie Class.
Ric Cruz described some strategy calls the team had to make in order to get the results they wanted. He narrated, "The pressure was high since I only got P2 in my class during the Qualifying for Pirelli Cup. I decided not to join the Qualifying for the Ducati Cup and sacrifice grid position to preserve my tires for Race 1 in Pirelli Cup. Lining up on the grid, the game plan was simple: to pass every rider in front until I reach the chequered flag."
The emphasis of the brand's flagship Ducati Cup has always been to help jumpstart the racing career of any rider, giving them a proper avenue to compete, build their skill, and eventually move up to the Pirelli Cup and national series. It also allows new faces to share the same track with veterans and let talent shine through. One such example is rookie Ryu Hyomin, who placed his Panigale V4 alongside more experienced riders and score a best 5th place finish on the cup's return in 2023.
Then there are the likes of rookie Dr. Diego Mangahas and tenured racer John Defensor who had different experiences on track. Dr. Mangahas was determined to make his mark as he detailed, "First time participating in such an event, I didn't really know what to expect of it. Fortunately, we did more-than what we were expecting," says the surgeon who hopes to move up in the coming legs.
As for John, he had doubts coming to the track since this was his first race in almost three years. Ultimately, he tallied respectable results for the event as he shares, "There were a lot of questions in my head. I'm far from peak strength but I was still strong enough to have fun and pass pointers to young racers." The 51-year-old veteran seeks to contribute to the community through helping organizing and giving insights to new racers.
On the other side of the spectrum, Expert Class rider Jade Tan had this to say on what his biggest accomplishment was on the Ducati Cup, "Finishing the race unscathed and showing everyone watching on and off the track that road racing is truly exciting and that the Ducati Cup is indeed a gentlemen's race."
The cup was best highlighted by experts Tofu Guzman and Jan Timbol who notched a win each. Tofu, who also coaches other riders, shared "Being the underdog in the category, running a Panigale V2 in a grid full of Panigale V4s is like a dolphin swimming with a pack of sharks." But he reaffirmed, "when the rubber started rolling, I kept myself composed and was able to hold the lead."
Aside from his win, Tofu expresses his biggest achievement in the fixture was the wins of his students, "My boys Jade Regalario, Ric Cruz, and Pong Lacson ended up being last in their classes during the qualifying, however when the race started they showed them what we had to give and take the championship home."
Also making headway is coach Joey Storm Rivero. The racing ace is stoked to be back on the grid after being away from the scene and was quite impressed with the performance of the StreetFighter V4S. He shared that the new bike was a "rocket ship" and effortless around corners, making his podium finishes a joy.
Truly it was unforgettable race weekend for Ducati Philippines and its riders. Not only did they show the brand's abilities on track, but also proved that it can win on different categories even with a diverse group of rider skill.
Toti Alberto, Ducati Philippines President: "First of all, I'm happy and thankful to the Lord that everything went well for the race. We got a perfect score for TJ, Lawrence, and especially the Ducati racers in the Pirelli Cup, which was a really good showing for the brand. We won all the classes 1-2-3."
Ducati Philippines is owned and operated by T.A. Marketing Inc. located at 222 Katipunan Ave., Blueridge A, Quezon City.